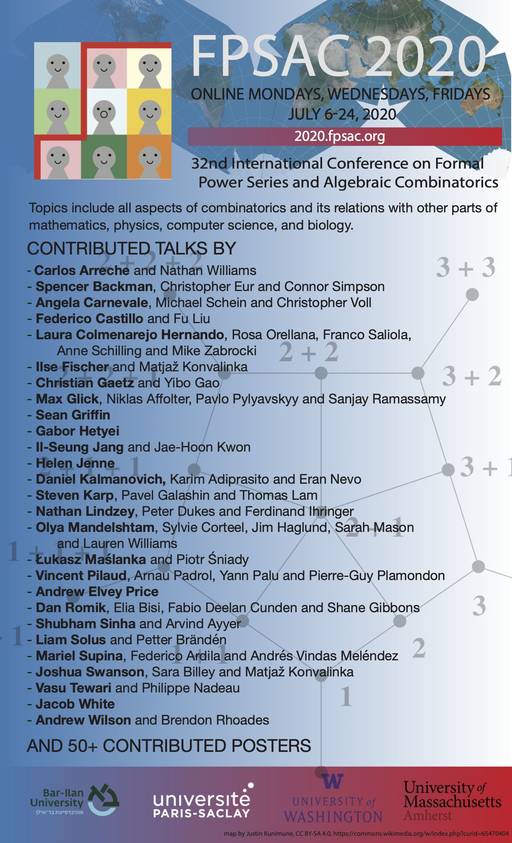 FPSAC'20: Online
The 32nd international conference on
Formal Power Series and Algebraic Combinatorics
Online
July 6 -- 24


Previous:
FPSAC'2019: Ljubljana
Next:
FPSAC'2021: Ramat-Gan
This conference was originally planned to be held July 13--17 2020 at Bar-Ilan University, Ramat-Gan, Israel.
The Coronavirus pandemic force us to cancel the physical meeting at Bar-Ilan University
, details may be found
here
. Bar-Ilan University will host FPSAC 2021 and all invited speakers agreed to give their presentation there.
Recognizing the fine work resulting in so many great submissions, and the completion of the refereeing and selection process, Conference Proceedings will be published as planned.
There will be an
online FPSAC
where the submitters of the accepted talks and posters have the chance to present their work.
Editor:
Eli Bagno and Olya Mandelshtam
Chairs of the program committee
Ron Adin, Christos Athanasiadis, Yuval Roichman, Michelle Wachs
Chair of the organizing committee
Alejandro Morales
Best student paper
Christian Gaetz: Massachusetts Institute of Technology, USA
Yibo Gao: Massachusetts Institute of Technology, USA
Sean Griffin: University of Washington
Program Committee
Ron Adin (cochair): Bar-Ilan University, Israel
Christos Athanasiadis (cochair): University of Athens, Greece
Yuval Roichman (cochair): Bar-Ilan University, Israel
Michelle Wachs (cochair): University of Miami, USA
Michael Albert: University of Otago, New Zealand
Sami Assaf: University of Southern California, USA
Bruno Benedetti: University of Miami, USA
Arkady Berenstein: University of Oregon, USA
Fabrizio Caselli: University of Bologna, Italy
Valentin Féray: University of Zurich, Switzerland
Luca Ferrari: University of Firenze, Italy
Jason Fulman: University of Southern California, USA
Martina Juhnke-Kubitzke: Osnabrück University, Germany
Eric Marberg: HKUST, Hong Kong
Peter McNamara: Bucknell University, USA
Roy Meshulam: Technion, Israel
Mikhail Muzychuk: Ben-Gurion University, Israel
Nathan Reading: North Carolina State University, USA
Martin Rubey: TU Wien, Austria
Bruce Sagan: Michigan State University, USA
Steven Sam: UCSD, USA
Raman Sanyal: Goethe University Frankfurt, Germany
Gilles Schaeffer: CNRS and École Polytechnique, France
Sheila Sundaram: Pierrepont School, USA
Harry Tamvakis: University of Maryland, USA
Alek Vainshtein: University of Haifa, Israel
Masahiko Yoshinaga: Hokkaido University, Japan
Organizing Committee
Alejandro Morales (chair): University of Massachusetts Amherst, USA
Dan Betea: KU Leuven, Belgium
Sara Billey: University of Washington, USA
Angela Carnevale: National University of Ireland, Galway, Ireland
Laura Colmenarejo: University of Massachusetts Amherst, USA
Christian Gaetz: MIT, USA
Sean Griffin: University of Washington, USA
Helen Jenne: University of Oregon, USA
Matjaž Konvalinka: University of Ljubljana & IMFM, Ljubljana, Slovenia
Jang Soo Kim (executive committee liaison): Sungkyunkwan University, South Korea
Nicolas M. Thiéry (executive committee liaison): Université Paris Sud, France
Original organizing committee
Uzi Vishne (chair, Bar-Ilan University, Israel)
Eli Bagno (Jerusalem College of Technology, Israel)
Jonathan Beck (Bar-Ilan University, Israel)
Nathan Keller (Bar-Ilan University, Israel)
Toufik Mansour (University of Haifa, Israel)
Sarah Mason (Wake Forest University, USA)
Igor Pak (UCLA, USA)
Nicolas M. Thiéry (executive committee liaison, Université Paris Sud, France)